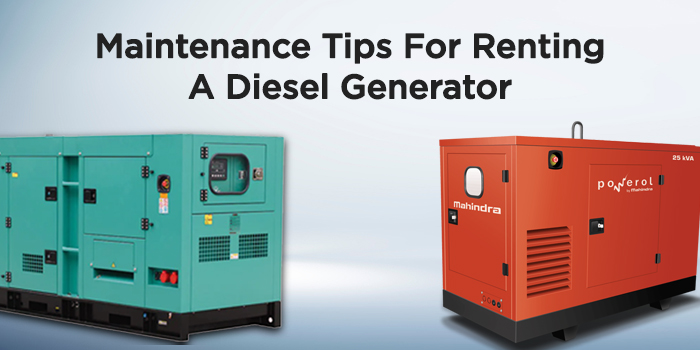 Since you're on this page, You probably going to rent a diesel generator but you don't know how to maintain a rental generator, it's not a problem that will give some Maintenance tips for renting a diesel generator.
Some essential Tips while renting a diesel generator are these.
If You Have a Rental Generator Want to Take a Generator Inspection.
When the Diesel generator is running exhaust system, fuel system, Direct current system, and the engine must be closely monitored for any leaks that could result in hazardous events.
Proper maintenance is necessary for any interior combustion engine. Standard services and frequent oil changes are recommended at 450 hours. For renting a diesel generator in Chennai, a generator should be properly inspected and maintained.
Lubrication Service.
These are the main tips for renting a diesel generator. Diesel engine oil in the diesel generator should be properly checked while turning off a generator at frequent intervals using a dipstick. Allow the oil in the higher parts of the generator to drain back into the crankcase and the engine manufacturer's API oil classification and oil viscosity recommendations. By using the same quality and brand of oil, you can keep the oil level as close to the full mark on the dipstick as possible.
The filter and oil must but be changed at the time and check the engine for draining the oil and replacing the filter.
The Cooling System of a Diesel Generator.
Check the coolant level on shutting down and remove the radiator top after releasing the engine to cool. Heavy-duty diesel engines necessitate a well-balanced coolant solution while renting a diesel generator.
Testing the Batteries.
The battery must be kept fully charged and well-maintained to avoid dwindling. This is accomplished through regular testing and inspection to determine the current state of the battery and to avoid any start-up issues with the generator. They must also be cleaned regularly, and the battery's specific gravity and electrolyte levels must be monitored.
As batteries age, their internal resistance to current flow increases, and the only accurate way to measure terminal voltage is under load. This indicative test is performed automatically on some generators each time the generator is started. To test the condition of each starting battery on other generator sets, use a manual battery load tester.
Keep Your Diesel Generator Clean
When the engine is clean, oil drips and other problems are easy to detect and repair. Visual inspection can ensure that hoses and belts are in good working order. Frequent inspections can help prevent wasps and other annoyances from nesting in your equipment.
The more a generator is used and relied on, the more care it requires. A generator set that is rarely used, on the other hand, may not require as much attention.
You are renting a diesel generator want to know about these things. Hope this blog is informative to you. In case you want to rent a diesel generator ask experts.