Are you decide to hire a generator for your industrial or commercial use? Well, here we are sharing some important tips and advantages of hiring a generator. You should always contact a trustworthy generator rental company to hire a generator because they understand your event requirements and will provide you the right power equipment for your party.
Go through and get an idea from this infographic, created by Pioneer Power Service, and know more about generator hire:
Generators are blissful when you are in need of a temporary or emergency power solution. But if you are planning for a specific event it's best to count on generator hire rather than buying one. There are a number of events like college fests, musical concerts or even a wedding party which if takes place outside would require temporary power solution and this is where the generator comes handy. The post below presents you an insight into the many benefits of generator rental followed by some essential tips to remember while actually hiring pioneer power service.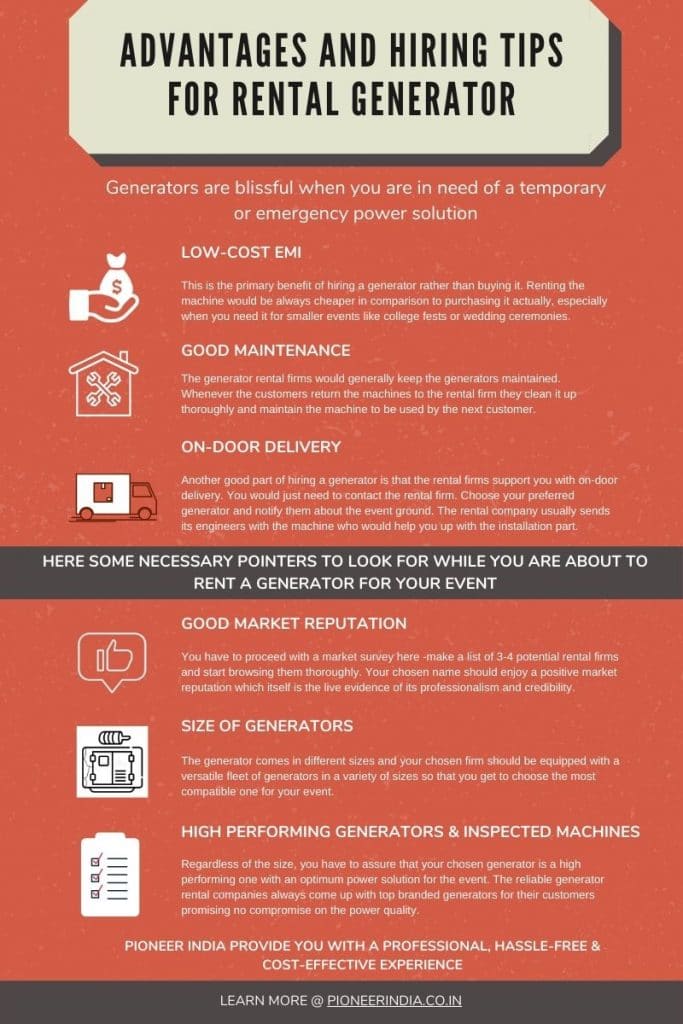 Hiring Tips For Rental Generators
Experienced & Trained Engineers:
Check out that the chosen generator rental agency is backed by a solid team of experienced and trained engineers and technicians. A seasoned technical help guarantees the appropriate installation of the machines relieving you from the tensions regarding the reliability and quality of its performance on the event ground.
Check For Renters Insurance:
This is another vital point to take care of while you are choosing your generator hire firm. Your selected rental company should be backed by adequate renters insurance that would cover up the device if something occurs to it while in the customer's possession.